The Bronco Floor Stripper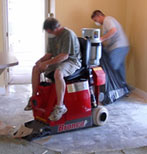 The Bronco Floor Stripper is a revolutionary system that makes difficult and labor intensive flooring removal a snap. At only 29" wide the Bronco has the power and versatility to handle everything from shopping malls to office areas. The Bronco Floor Stripper will remove (on average) 15 thousand square feet per day of ACM (Asbestos Composite Material) or VCT (Vinyl Composite Material) This is the Quietest most Powerful, and most Maneuverable floor machine ever.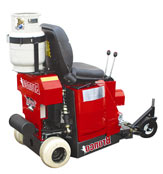 By being electric, the machine is capable of running in occupied areas where internal combustion is prohibited. Also, inquire about Diesel and Propane Powered machines. We offer a service to CUSTOM REMOVE Floor Surfaces.

Call for pricing on machines The Bronco is now available in electric, propane, and battery power.
Contact Us for pricing, or to have a free movie of the machine in action and other literature, or feel free to call us.