Bronco Specifications
The Fastest, Cleanest, Quietest, Most Powerful Professional Stripper Ever!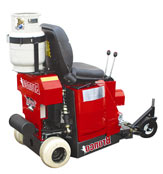 Patented Rear Suspension Keeps Blade Engaged
Physical Properties
Length: 48"-56"
Width : 29"
Height to top of seat: 48-53"
Gross Weight: 1185 lbs -2050 lbs.
Net Weight without weights: 688 lbs.
Specifications Electric Motor: 7-1/2 hp, 220 volts, single phase, rpm 3450
Propane Motor: 18 hp Kawasaki
DC Motor: 48 V DC
On-board Charger: 110V, 15 amps
Tire Specification: 10.5"x 6"x 5" Super Solid non-marking
Top speed: 550 feet per minute
Specifications are approximate and may change without notice.
Lease Option available
Substrates
Ceramic
Direct Glue Carpet
Double Stick
Epoxy Bonded Vinyl
Hardwood
Marble
Parking Lot Coatings
Power Bond Carpet
Vinyl Sheet Goods
Vinyl Tile
Features
Electric or Propane Motor
Quiet operation
Little or no emissions
Operate in confined areas
Operate in occupied areas
Propane motor comes with personal carbon monoxide monitor
Free shipping within continental US
Low pressure hydraulic system operates at 500-700 psi nominal. This low pressure system has many benefits over conventional high pressure systems that operate at 3,000 + psi.

Less heat and noise generated from the hydraulic pump.
Longer pump life.
Reduced likelihood of a leak. If a leak occurs there is a much lower chance of injury to personnel from a high pressure line or fitting burst.
Total of only 4.5 gallons of hydraulic oil in the entire system.
No spool valves reduce the heat build up on the controls.
Rear Adjustable Suspension
Able to run over debris without disengagement of the blade with floor material being removed.
You keep going while the others are backing up and starting over. That is one of the reasons why the removal rates are so incredible.
Suspension is adjustable for operator weight and blade condition. Wash-Down Safe.
Motor is sealed for wash down.
Electrical box and components are sealed for wash down.
Contact Us for pricing, or to have a free movie of the machine in action and other literature, or feel free to call us.