Propane and Electric Bronco
The Clean Machines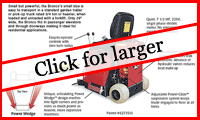 The patented (pat. #6273513) Bronco is a major breakthrough in floor removal equipment design.

For the first time, removal rates are not dependent on a machine's sheer size and weight. The Bronco equals or outperforms those large, heavy, expensive, awkward machines but comes in a small, compact size.

And now you have a choice of power systems in your Bronco: the super-clean electric model and the new, low-emission, propane-powered version. With either model, you'll get the same great features including high performance with low maintenance.

The Bronco has only five drive components - a motor, two pumps and two gear motors. That's why we can go the extra mile and extend a limited 1 year warranty.

So, before you invest in a professional grade stripper, you owe it to yourself and the success of your company to check out the revolutionary Bronco.

Removal rates, blade life and equipment maintenance vary depending on the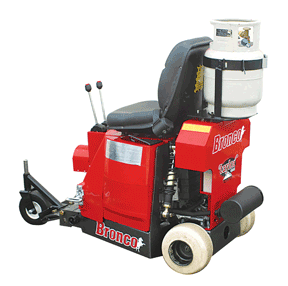 installation materials and techniques originally used to install the floor covering.
Propane Powered
Powerful, low-emission 17HP Kawasaki engine
Strip up to 15,000 sq. ft. per day
On-site training at your jobsite or facility is required.

Call us about the Bronco Leasing Plan.
Ask for our FREE video or cd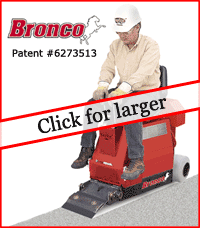 Battery Bronco
2-6 Hrs. Battery Operated... 110V Cord-Powered... or Both... It's Your Choice!
Fast, Convenient, On-Board Charging System!
Cord-Power plus a fully charged battery provides up to 50% or more battery life. Battery life will vary depending on material being removed.
Non-stop Stripping When Combining Cord Power With a Fully Charged Battery
Contact Us for pricing, or to have a free movie of the machine in action and other literature, or feel free to call us.